WONDERS OF NEFTA 
I am located in the south of Tunisia, wedged between Chott El Jerid and sand dunes. My climate is mild and dry winter (20 °). The summer is hot, the Sirocco often blows. My number of inhabitants has not changed since the early 20th century still around 18000 inhabitants. I was formerly a berber city, then Roman and finally Arab Muslim. I was a center of Sufism. The Sufi brotherhood of Zawiya Kadria whose Isabelle Eberhardt was affiliated, is known throughout the Maghreb.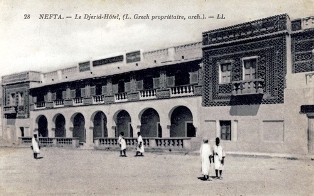 The influence of this religious movement is still present to this day. I count a hundred marabouts including the famous Sidi Bou Ali who freed me ibadhites Khaouarej me and converts to Sunni Islam.
My oasis is huge and has half a million date palms. The architecture is typical of my houses. The walls are made of ocher-colored solid bricks. The roofs and doors of the houses are made from palm wood. It is no coincidence that this location has inspired a large number of filmmakers, I just mention two films that made the headlines: "The English Patient" footage in my street and the famous "Star Wars" whose sequences were filmed in the desert not far from here.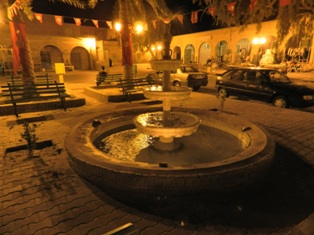 Famous Men visited me, including André Gide, who left his impressions on the guestbook Djerid Hotel: "If I had known Nafta, she instead Biskra, I would have loved" . If you like human contact you will be served here because people are open and friendly. Feel free to engage in dialogue that you will better received. Walk quietly in my vaulted alleys that you will be delighted. You will be spellbound, immersed in a dream world. Original routes will be offered and you will discover various aspects of my environment, inaccessible to a visitor.
Today I have two high schools, two middle schools, ten primary schools, a hospital, four pharmacies, eight hotels, a cultural center, a public library and a municipality. I can be reached by road, via Tozeur, by tain or plane. The Tozeur-Nefta International Airport is 22 km.
| | |
| --- | --- |
| Day precession | House Nefta |
| Sidi Mazhoud | Vaulted |
| | |
| Alley | Childhood friendship |
| Mausoleum of Sidi Bou Ali | Shopping street |
| Sidi Bou Ali | Dar Bejaia, after restoration |
| The "Corbeille" | The historic district |
| Market place | Card game under cover ... |
| Béni Yazid | Sidi Laâbidi (Alegma) |
| To Sidi Ali Sayari | The historic district |
| Dreams of a girl of Nafta | Mosque Sidi Bel Abbes Edderjini, was a hotbed of religious current ibadhite. |
| The "Corbeille" fitted in ecological park | Nefta, la ville aux cent marabouts |
| | The primary school built in 1899 is part of our collective memory, was destroyed in 2009. Neftiens generations have been there. What a pity? What a shame? |