Mos Espa, a small city on the planet Tatooine became a place of pilgrimage for fans of science fiction and special effects. It is in the Tunisian desert, 14 km from Nefta and 38 km from Tozeur that George Lucas has planted its decor. The place is magic and visitors combine curiosity for adventure.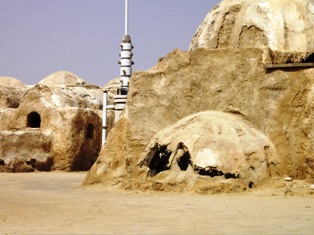 The sets are still there and well maintained by the tourism board which placed permanently guards. Besides these decorations were used in the filming of Episode II and Episode III of Star Wars (Star Wars).

This place is spread out May 2, 2015 the world's largest flag registered in the Guinness Book.

Photo de arthurperset.com

First edition of the "Dunes Electronics" festival in Nafta, from 21 to 24 February 2014, on the site Star Wars in the desert Ong Jemel. The event will continue every year.